the helmet of the month 03: Schako of private
of the See-Batallione (Marine Infantery)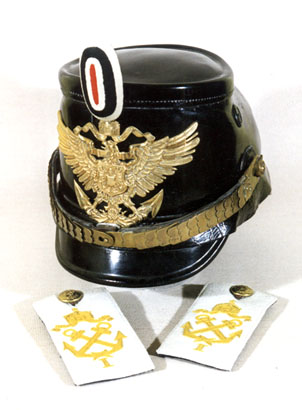 The See-Batallions or marine-infantry were the only imperial troops of the German army garrisoned in Germany. They were not a part of the Army of the Empire, but of the Imperial Marine. Their officers carried the marine saber besides. Initially, toward 1850 these troops guarded arsenals and military harbors. In addition to this duty, this elite troop participated then in the German colonial campaigns of the end of the XIXe century.
When he used to visit Kiel or Wilhelmshaven harbors, Kaiser Wilhelm II gladly used to wear the uniform of the See-Batallions of which he was chief "à la suite". A lot of Princes received as well the title "à la suite" of two of the three Battalions; so to the spring 1914 were
to the 1st Bat. : king Friedrich-August of Saxony, Kronprinz of Prussia, the duke of Schleswig-Holstein, the great-duke of Bade, the great-duke of Mecklemburg, the great-duke of Hesse, the duke of Altenbourg-Saxony, the duke of Arenberg,
to the 2nd Bat. : king Louis III of Bavaria, Eitel-Friedrich son of the Kaiser, the great-duke of Oldenbourg, Kronprinz Ruprecht of Bavaria, duke Albrecht of Wurtemberg and Egon prince of Furstenberg, as well as the "General von der Infanterie" von Hoepner.
The OR schako here presented, is made of thick, rather heavy leather, and manufactured before 1895 date of removal of the "bourdalou" (the strip of leather edging the bottom of the body of the schako). Ventilators holes little visible are of the Bavarian model carried on the old caterpillar helmets The very beautiful headplate includes the imperial eagle on a marine anchor. This schako never had a cockade to the chinscales since colors of the empire were on the Feldzeichen (black-white-red).
On parade a black haarbush, red for musicians
Aboard the ships, the small chinscales were replaced by a leather chinstrap similar to the OR spiked helmet ones.
On campaign in hot countries the ranks wore a cork colonial helmet covered with beige cloth as well as a cap of beige cloth with a neck cover hung to the rear (that we will see to the chapter dedicated subsequently to the uniforms of the marine infantry .
---
Contents of the Uhlan on the web
This page was updated on 20/01/2001